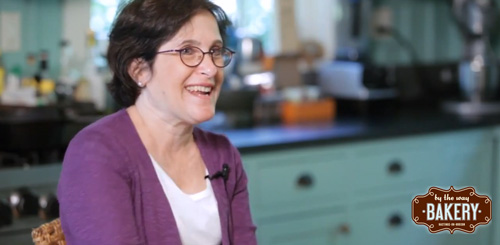 I stumbled into Helen Godin's By The Way Bakery in Hastings on the Hudson, NY shortly after the place opened. And I immediately fell in love. The vintage, small-town feel, hand-crafted delectables and, wow, the owner right behind the counter with a giant smile and great conversation.
Of course, it being my first time in, and with the wife and kid by my side, we HAD to sample a nice assortment of "the goods." Oh, the sacrifices we make for family!
Three words…Mouth. Water. Ing!
Which may surprise you, because the "By The Way" in the name stands for "oh, and it's gluten-free and dairy-free, by the way."
Turns out, that's just the first of many surprises. Because Helene opened the bakery after walking out of a hugely successful 22-year career as a hotshot lawyer in New York City. No experience as an entrepreneur. Never baked. Never done anything or dreamed of anything but being a lawyer. Until that day where everything changed. And a bakery bar-none became her quest.
In this week's episode, we explore:
What led Helene into the practice of law and what kept her there for so long
What led her to make such a radical and abrupt change in course
How she used the local grocery store to do fast and free market research
How she blended a love of taking care of people with a rapidly-emerging trend
What people around her thought about her leap and how she handled her fears and doubts
How she rapidly self-educated herself in entrepreneurship and gluten-free baking
How she built a network of baked good beta-testers all over town to help develop her products
How a relentless commitment to creating something extraordinary drove action
How face-to-face local businesses give you a connection you cannot get online
What the first year was like and how she learned while she worked
How her life and her focus has changed since making the jump
What surprises came and awakenings came her way
What the impact has been on her relationships
What it means to Helene to live a Good Life
And so much more.
And be sure to share it with all those friends who you know are secretly Jonesing to do what Helene did, but haven't found the courage or the story that proves its possible!
Go ahead, email 5 friends. Share this puppy on Facebook. 
Oh, and if you're ever in Hastings, do NOT leave without swinging by, saying hello to Helene and grabbing something to eat.