There's a line in the Good Life Project Living Creed:
"Life is a story if you wouldn't read the one you're telling, write a different ending."
That's what today's short and sweet GLP Riff is all about; the role of stories in our lives. What is the story you're telling with the way you're living your life?
Maybe more important, are you living a "storied life?"
When you think about the arc of your time on this big blue orb, what are the tales, adventures and legends? How rich are they? How filled with color, taste, smell, sound and feel are they? How abundant is your life's library with stories that move you, even just thinking about them? Even if they're not happy ones?
It's not about how much they make you laugh (though they may), or how well you're able to tell them. It's about how deeply you've lived them.
Stories are a signpost of your willingness to engage with life.
In the end, what if a good life is a storied life?
That's what we're exploring in today's jam.
+++++++++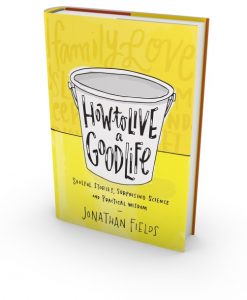 Fun news – For a limited time, the ebook version of Jonathan's new book, How to Live a Good Life: Soulful Stories, Surprising Science and Practical Wisdom, is only $0.99 on kindle, nook and iBooks! Grab it while you can. And, you can download the first chapter and invest in your copy now. Also, big news – the book is now available as an audiobook! Get it here.