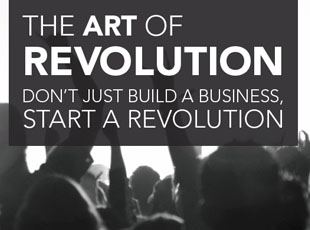 So, I've got something different for you today. It's a bonus episode that features a 90-minute audiobook version of something I published last week called The Art of Revolution.
It's about an idea. Actually, something that started as my own personal geek-fest. I was trying to figure out if you could tap the power of movements and revolutions to build a career or business or body-of-work. What I discovered, well, let's just say, it surprised even me.
What does this have to do with living a good life? Well, potentially, a lot.
Because if you can earn your living by surrounding yourself with people who are fiercely committed to building something together, fueled by shared values and aspirations, something astonishing happens. You light up. And contributing to the world in a way that lights you up, that's a pretty important part of a life well lived.
But, enough of the set-up. Here's the audiobook. The Art of Revolution.
As always, you can listen below or, probably a better option for this (since it's 90-minutes) is to head over to iTunes, subscribe and download it to your phone, then take it on the go.
Then, if you'd like to download the PDF version (to go deeper and take notes) or watch a private on-demand webinar replay version, head on over to RevolutionU.biz now.