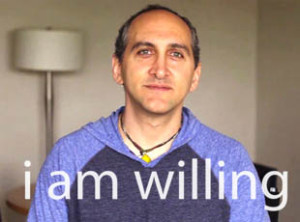 Everyone wants better, no one wants to change.
In my travels in search of the elements of a life well-lived, I've stumbled upon a wellspring of wisdom, but also a truckload of discontent.
So many people want "better" realities. Better jobs, better relationships, better health, better education, better income, better energy, better lives.
But so few are willing to do the often difficult work needed to evoke and sustain that change. That deeply yearned-for different future.
So, I made this quick "visual essay" for you and I'm sharing it as this week's episode. It's actually based on a short meditation I wrote and shared a few years back on my blog. And yet the message is more relevant than ever.
It's also a bit of an experiment. A "change-up" if you will. Let me know how you feel about this type of episode.
If it resonates, I'd be grateful if you'd share it with friends. Feel free to use the hashtag #iamwilling.
You can also listen to the full GLP Radio [audio-only] episode below or listen and subscribe on iTunes to be sure you never miss an episode.
With gratitude,
JF