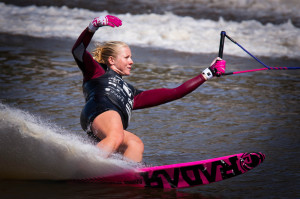 We're all guilty of it…
It's something we all do. For some, it's not a big deal, intruding on rare occasion. For others, though, it literally controls your life. It fills each day with what feels like an impenetrable level of suffering and it's often accompanied by a stifling level of hoarding, both emotional and physical. Especially when that hoarding of things and states helps to delude you into desperately yearned for feelings of certainty and security.
What is it?
Grasping.
We hold mercilessly onto certain pain, rather than release into uncertain possibility.
Thing is, we don't often realize the suffering is coming from our own refusal to let go of our death grip on the very thing or relationship or experience that is causing unease until we've been metaphorically and, sometimes, physically hammered into letting go.
How this unfolds, why we do this and what to do about it is the focus of today's GLP Riff. And, along the way, you just might learn a thing or two about…waterskiing (you'll have to listen to find out what that's all about).
So, I'll leave you with a question…
What are you holding onto now that's smothering you under the weight of your own unrelenting grip?
Now, go listen now. And if you know anyone this might help, please feel free to share it around.
Be sure to subscribe below and listen and subscribe on iTunes to make sure you never miss an episode!