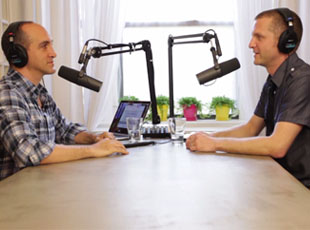 Big surprise and a huge announcement about the future of the project.
First, the surprise. Today's guest is ME!
You guys have been asking for two and a half years. So, I finally invited a good friend to turn the mic on me and explore this incredible journey of both life and GLP TV. We go deep into a number of topics I've never spoken about and share amazing moments, both in front of the camera and behind the scenes of the project.
Now, what about the major announcement?
You may notice in the image above, I'm wearing headphones and speaking into a radio-style microphone. Hmmmm, we've never done that before. What gives?
Well, the big announcement is that the video part of the project is going on hiatus. We'll still air episodes on youtube as audio-only, but the next phase of the project is all about audio. This is actually a giant win for you. It's going to allow us to have conversations with a wider range of people, more often and with a level of depth and intimacy that'd hard to create when you've got a full crew and cameras rolling.
I explain this evolution and what's driving it a lot more in the final 20 minutes of this week's episode. And if you're thinking about producing a podcast or web-series, be sure to tune in to that part of the conversation.
And, if you want to keep jamming with me every week, I STRONGLY recommend that you head on over to iTunes and subscribe to the podcast today. We've got an extraordinarily moving episode coming up next week that you absolutely won't want to miss.
With gratitude,
Jonathan
Editor note: We'd originally posted this episode on Thursday, but had to pull it down after a few hours because of tech problems with the audio. It's now been fully remixed, problem fixed. Thanks so much for your patience!