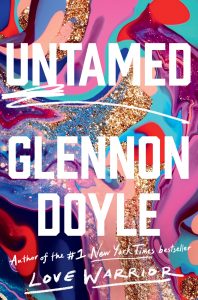 Glennon Doyle is the author of New York Times bestselling memoirs Love Warrior and Carry On, Warrior, and the powerful new book, Untamed. An activist and voice for social change, she is also the founder and president of Together Rising, an all-women led nonprofit organization that has revolutionized grassroots philanthropy – raising over $20 Million for women, families and children in crisis.
Glennon originally appeared on the show in 2016, exploring her feelings about faith, family, public and private, art and service, love and leading. Glennon's wife, soccer legend and activist, Abby Wambach, also appeared on the show last year where we explored her powerful journey, along with many of the deeper motivations, struggles, moments of awakening, defining stories and so much more. 
You can find Glennon Doyle at: Website | Instagram
Check out our offerings & partners: 
Peloton: Try it for yourself. Learn more about Peloton's 30-Day Home Trial at onepeloton.com and get $100 off accessories with the purchase of the Peloton Bike and use promo code GOODLIFE
Sun Basket is offering $35 off your order when you go right now to sunbasket.com/GOODLIFE and enter promo code GOODLIFE at checkout.
Coaches, Counselors, HR pros, Advisors, Leaders, & helping professionals – Become "Sparketype® Certified!" Learn how to tap the power of the Sparektypes to help others come alive in work and life.
Photo Credit Scott Sherratt