Glennon Doyle is an author, activist, founder of Momastery.com and co-founder of the Compassion Collective and Together Rising, a non-profit that has raised more five million dollars for women and children in crisis.
Her latest book, LOVE WARRIOR is a #1 New York Times Bestseller and the Oprah's Book Club selection.
I sat down with Glennon the morning after she had wrapped one of her gatherings at the legendary BAM (Brooklyn Academy of Music) in New York City, where she was joined by a multi-denominational collective on-stage, including Alicia Keys who was so moved she couldn't help but belt out an impromptu song before leaving.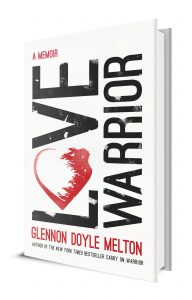 In this conversation, we dip into her memoir. But that's more of a jumping off point that leads us into some very different waters, from leading as an introvert, her feelings about faith and how it informs what she's creating to how she's moving into a season of her life where the line between public and private, art and service, love and leading is shifting in profound and intentional ways.
We go deep into some provocative territory here, and there are more than a few invitations to reconsider how you move into the world and what you choose to focus on. Agree or not, this is a conversation that'll leave you lifted, challenge your assumptions and also make you think and feel.
We first aired this conversation in October 2016. Since then, so much has unfolded in both in Glennon's life and in the world. I'm so excited to share this "Best Of" episode with you now, as a continued reflection on what matters in your own life, and how you might bring it to the world.
Glennon's publishing team loved this conversation as much as I did, and you can now find the transcript of much of it in the new paperback version of her book. So, be sure to check it out.
Photo credit: Amy Paulson
Rockstar Sponsors: 
Wondering what's for dinner? Blue Apron is the #1 fresh ingredient and recipe delivery service in the country, whose mission is to make incredible home cooking accessible to everyone. Check out this week's Blue Apron menu and get your first THREE meals FREE—WITH FREE SHIPPING—by going to blueapron.com/goodlife.
Are you hiring? Do you know where to post your job to find the best candidates? Unlike other job sites, ZipRecruiter doesn't depend on candidates finding you; it finds them. And right now, my listeners can post jobs on ZipRecruiter for FREE, That's right. FREE! Just go to ZipRecruiter.com/good.