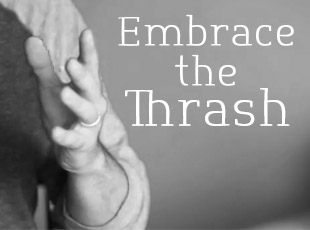 Every long-term creative endeavor requires you to cycle into "The Thrash."
That window where everything you thought you knew gets thrown into the wind, everything certain becomes uncertain and the way you contribute to your art, business, career and life are all up for grabs.
It's not about floundering or wallowing, it's about owning the fact that you've been going sideways for a while and it's time to step into that space that sets you up for the next big evolutionary step. Even if it scares the daylights out of you.
The other side of The Thrash is possibility, growth and power. But, all too often, you can't see that until you're through it.
How you handle this cyclic creative rite of passage determines whether you get to the next level, what it looks like and how much ease you experience along the way.
That's what we're talking about in the third episode in our August Summer Jam Series.
Watch the video above, listen below or subscribe on iTunes. And be sure you never miss an episode, sign up for weekly email updates and insider invites and news below.
With gratitude,
Jonathan