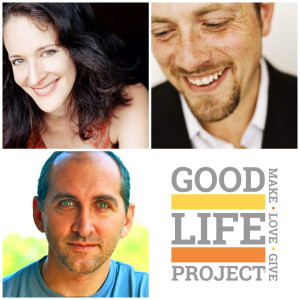 Today's episode is our second experiment, with a new show format, we're calling 9Things™.
What is it? A three-person roundtable, where each person shows up with three topics to jam on. And, the thing is, nobody knows what the other person's topics will be until they hit the conversation.
My guests for today's episode of the 9Things format are two good friends, Gabra Zackman and Dan Lerner.
Covered in this episode:
Hashtags: funny new weird thing or business tool?
Hamilton on Broadway: the birth of creative genius
Innate Goodness: are we wired to be helpful?
Yazidi Women and the brutality of ISIS
Foodie Culture: more than what's on the plate
Bizarre Bat Discovered: fascinating that we can still discover new species
Four Year Long Collaborative Online Story: oops…I didn't mean to end it that way
Garbage: how can one person collect so much?
Workplace Culture: people are the new green
From Lawyer to Children's Entertainer: helping others pursue their interests
It's fast-paced, fun, utterly unscripted and at times a bit raw, but always good-natured and very real. Enjoy! And let us know if you like this format, over on social media.
Be sure to subscribe below and listen and subscribe on iTunes to make sure you never miss an episode!