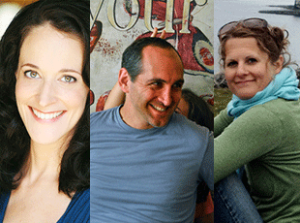 Over the next few months, we'll be testing a few different show and segment ideas. Not to replace our current weekly in-depth interviews, but to potentially add to them.
Yes, you heard right. There just might be more GLP to engage with on a regular basis, real soon.
And, today's our first experiment, with a new show format we're calling 9Things™.
What is it? A three-person roundtable, where each person shows up with three topics to jam on. And, the thing is, nobody knows what the other person's topics will be until they hit the conversation.
My guests for the premiere episode of the 9Things format are two good friends, Gabra Zackman and Erin Moon.
As you can imagine, this leads to moments that range from seriously funny to seriously soulful and, well, seriously not-safe-for-work (headphones might be advised for this one, toward the later parts).
We absolutely want your feedback on this new format and episode, so please share your thoughts in the comments below or by tweeting me @jonathanfields.
As I mentioned, it's not going to replace our weekly conversations, we're just playing with potential additional show formats to add into the mix.
Covered in this episode:
Bronies: adult men My Little Pony lovers – Freaky or soulful?
Depression: is it okay to own it, and what's the opposite?
Maniacal taskmasters: do you need one to become the best in the world?
Negotiating with terror: where do human rights begin and end?
Vision-boarding: silly myth or scientific tool?
Paying for faith: will people give more if they don't have to give at all?
Online dating: full frontal pics, where's the line
True love, twice found: is it possible to have two loves of a lifetime?
Manly beards: because, c'mon, hipsters are people too!
Links we mention:
Follow Gabra and Erin:
Be sure to subscribe below and listen and subscribe on iTunes to make sure you never miss an episode.