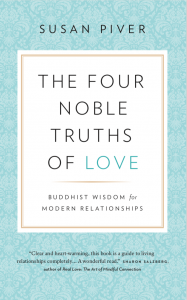 Susan Piver is the New York Times best-selling author of 9 books, a speaker, and founder of the largest virtual mindfulness community in the world, The Open Heart Project. She has been featured on Oprah, TODAY, CNN, speaks around the world and leads teachings and retreats on Buddhism, meditation, relationships and the essential practices for a life well-lived. In her most recent book, The Four Noble Truths of Love, and today's Best Of episode, she offers a powerful set of tools to reimagine and better navigate long-term, loving relationships in a way that respects each person's individual truth, while making space for a living, evolving container for love.
Also, here's a special Valentine's Day Bonus PDF from Susan.
You can find Susan Piver at: Website | Facebook | Instagram
Check out our offerings & partners: 
Peloton: Try it for yourself. Learn more about Peloton's 30-Day Home Trial at onepeloton.com and get $100 off accessories with the purchase of the Peloton Bike and use promo code GOODLIFE
Sun Basket is offering $35 off your order when you go right now to sunbasket.com/GOODLIFE and enter promo code GOODLIFE at checkout.
Coaches, Counselors, HR pros, Advisors, Leaders, & helping professionals – Become "Sparketype® Certified!" Learn how to tap the power of the Sparektypes to help others come alive in work and life.
Photo Credit Lisa Fehl