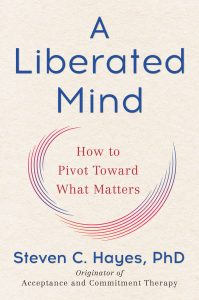 Steven Hayes was a young psychology professor when he started having debilitating anxiety and panic attacks. Let down by conventional wisdom, he developed his own approach, which eventually grew into Acceptance and Commitment Therapy (ACT), a powerful, evidence-based form of not just therapy, but liberation. His work has since influenced decades of psychotherapy and is now practiced by tens of thousands of clinicians all around the world. His latest book is A Liberated Mind: How to Pivot Toward What Matters
You can find Steven C. Hayes, PhD at: Website
Check out our offerings & partners: 
Allbirds: Allbirds shoes are made from natural materials. That means less of the bad stuff, and more of the good stuff. That's naturally better! Find your perfect pair today at Allbirds.com  
Zip Recruiter: The smartest way to hire. See why ZipRecruiter is effective for businesses of all sizes. Try ZipRecruiter for free at our web address: ZipRecruiter.com/good
Coaches, Counselors, HR pros, Advisors, Leaders, & helping professionals – Become "Sparketype® Certified!" Learn how to tap the power of the Sparektypes to help others come alive in work and life.
Good Life Project LIVE Podcast Event | Designing Your Work Life with Dave Evans & Bill Burnett: Want to derive more meaning, happiness and joy from work? Join Good Life Project founder, Jonathan Fields, in conversation with Dave Evans and Bill Burnett, co-authors of the NYT Best-seller Designing Your Life and the forthcoming, Designing Your Work Life, and Co-Directors of the Life Design Lab at Stanford University. We'll be exploring how to reimagine your approach to work and life in a way that leads to deeper fulfillment. This event will be recorded before a live audience and aired as an episode of the top-ranked Good Life Project podcast. We will leave room for an audience Q&A at the end. Attendance is limited, details & registration here. Stanford d.school | Friday, February 14, 2020 | 10:30 AM – 12:00 PM PST