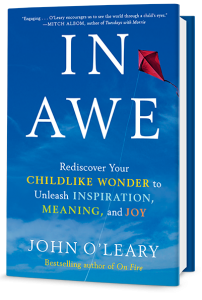 In 1987, John O'Leary was a curious nine-year-old boy. Playing with fire and gasoline, he created a massive explosion in his home and was burned on 100% of his body. He was given less than a 1% chance to live. John not only survived but, with the support of an incredible family, friends and community, found a way to reclaim a sense of wonder, joy and service that has led to a stunning career inspiring millions, writing books, while marrying the love of his life and raising four kids together. His #1 National Bestselling book ON FIRE recounts much of this story, and his popular Live Inspired Podcast takes you deeper into lessons learned.  John's new book, IN AWE, explores the key elements that allow you to live from a place of awe, no matter what the world throws at you.
We recorded a Good Life Project conversation with John in 2016, which you can listen to here.
You can find John O'Leary at: Website | Instagram
Check out our offerings & partners: 
BLUblox: Get your energy back, sleep better, and block out the unhealthy effects of blue light with BLUblox. Go to BLUblox.com today and get free shipping worldwide and 15% off with the code GOODLIFE.
UV Clean: Right Now Good Life Project listeners can get 15% off PLUS Free Shipping the purchase of two UV Clean Phone Sanitizers.  Just head to GetUVclean.com, and use Promo Code GOODLIFE.
AquaTru: Receive $100 off an AquaTru plus free shipping when you go to AquaTru.com & enter code GOODLIFE at checkout.
Photo credit: Susie Gaal Photography