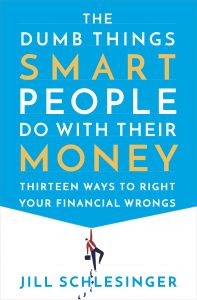 Jill Schlesinger is an Emmy-nominated and Gracie Award-Winning Business Analyst for CBS News. She covers the economy, markets, investing and anything else with a dollar sign on TV, on the "Jill on Money" podcast, and on her nationally syndicated show, "Jill on Money." Before stepping into the world of financial news and advice, she spent 14 years as the co-owner and Chief Investment Officer for an independent investment advisory firm, after following in her dad's footsteps as a trader on the floor of the NY Commodities exchange. She discovered that her heart was more in understanding the psychology of money and helping other people make better decisions that enable better lives. That same quest also led to Jill's first book, The Dumb Things Smart People Do With Their Money, that reveals so many of the completely irrational things we do in name of money, how so much conditioning from family and society leads to bad decisions, and what we can do about it all.
You can find Jill Schlesinger at: Website |Instagram
Check out our offerings & partners: 
LinkedIn Learning: Visit LinkedInLearning.com/glp and sign up for a demo today.
Allbirds shoes are made from natural materials. That means less of the bad stuff, and more of the good stuff. Find your perfect pair today at Allbirds.com
Coaches, Counselors, HR pros, Advisors, Leaders, & helping professionals – Become "Sparketype® Certified!" Learn how to tap the power of the Sparektypes to help others come alive in work and life.
photo credit: John Filo, CBS