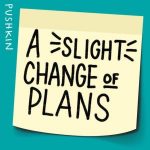 Imagine being so drawn to a pursuit as a kid, it consumes most of your waking hours, rapidly becomes your identity, and is the thing you believe you'll devote your life to, and then, in the blink of an eye, it's taken away. That's what happened to Maya Shankar, who fell in love with the violin as a small child, studied it with love and devotion, was being mentored by the legendary Itzhak Perlman, and was sure it would be her profession for life. Until an injury took it all away in the blink of an eye. How that moment affected her, and how she'd eventually discover a new, equally fulfilling devotion years later – human behavior and cognitive science – is a big part of today's conversation, along with a deep dive into how we change our minds.
Maya is currently the Senior Director of Behavioral Economics at Google and is the Creator, Host, and Executive Producer of "A Slight Change of Plans", a podcast with Pushkin Industries. Maya previously served as a Senior Advisor in the Obama White House, where she founded and served as Chair of the White House's Behavioral Science Team — a team of scientists charged with improving public policy using research insights about human behavior. She has been profiled by the New Yorker and has been featured in the New York Times, Scientific American, Forbes, and on NPR's All Things Considered, Freakonomics, and Hidden Brain. 
You can find Maya at: Website | A Slight Change of Plans podcast
If you LOVED this episode:
You'll also love the conversations we had with Brené Brown about how we show up in our work and life.
My new book is available!
Check out our offerings & partners: 
Peloton: Access high-energy workouts, instantly. Experience motivation like never before with the Peloton bike, now $400 less. Go to onepeloton.com to learn more.

Indeed: Connect with your talent audience so you can make more quality hires faster. Post your job, interview candidates, and make offers all on Indeed. Get started right now with a FREE $75 sponsored job credit to upgrade your job post at  Indeed.com/GOODLIFE. Offer valid through December 31st. Terms and conditions apply.