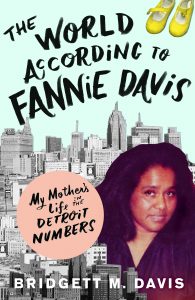 Bridgett M. Davis
grew up in the high-stakes mix of Motown, motor-city unions, and racial tension that was Detroit in the 1960s and 70s, watching her mother, Fannie, run a neighborhood numbers game that provided for the family and the community. After leaving Detroit for New York City, she honed her craft as a journalist, novelist, and screenwriter, with her most recent work,
The World According To Fannie Davis: My Mother's Life In The Detroit Numbers,
paying tribute to her mother's ingenuity and care under world-shifting circumstances. Join us to hear Davis share her journey from the troubled city of her upbringing to award-winning author and professor, and the incredible throughline of compassion, generosity, and tangible acts of love that saw her through it.
Check out our offerings & partners: 
"A Million Little Things", Returns Thursday, September 26th , 9/8 central, after "Grey's Anatomy", on ABC
Boll and Branch: Get $50 off your first set of sheets at BollAndBranch.com, and enter promo code GOODLIFE
Zapier: Right now through November, try Zapier free by going to our special link Zapier.com/GOODLIFE
Coaches, Counselors, HR pros, Advisors, Leaders, & helping professionals – Become "Sparketype® Certified!" Learn how to tap the power of the Sparektypes to help others come alive in work and life.