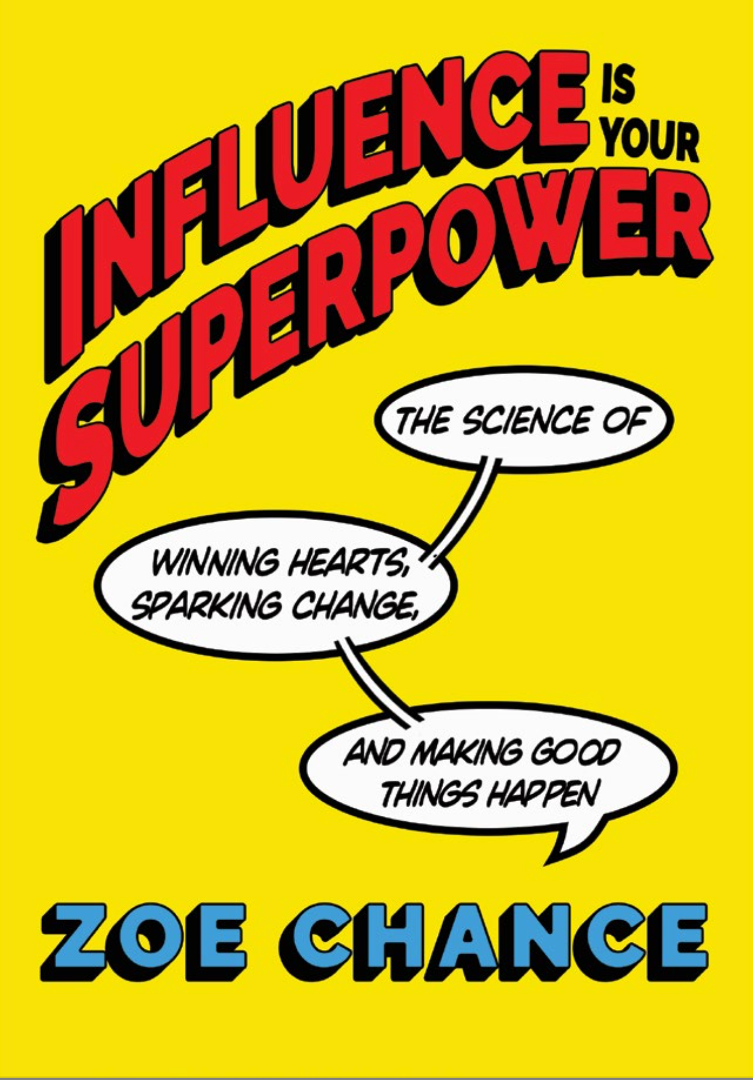 What do you think of when you hear the word influence? Or the phrase, "be an influencer?" Maybe you think about the ability to affect another person, to have influence over them. Or, to persuade them to adopt an idea, point of view or opinion. Or, maybe take an action or commit to something, or buy something. Whether we're comfortable with the notion of influence or persuasion or not, we're all immersed in overlapping processes of subtle and not-so-subtle influence all day, every day. And to better understand how to both cultivate our own skills and tools, and also become more aware of the scripts that are running all around us, I'm so excited to be able to sit down with my friend, Dr. Zoe Chance. 
Zoe is a writer, teacher, researcher, and climate philanthropist obsessed with the topic of interpersonal influence. She earned her doctorate in behavioral science from Harvard and now teaches "Mastering Influence and Persuasion," the most popular course at Yale School of Management. Her research has been published in top academic journals and covered in global media. She speaks internationally for Fortune 500 firms and leading NGOs, and gave a popular TEDx talk – How to Make a Behavior Addictive. And, her framework for behavior change is the foundation for Google's global food policy that helps over 100,000 people make healthier choices every day. Before focusing on academic pursuits, she also managed a $200 million segment of the Barbie brand for Mattel.
Zoe teaches smart, kind people to raise money for charity, get elected to political office, fund startups, start movements, save lives, find love, negotiate great deals and job offers, and even get along better with their kids. In other words, she helps people to use their superpower of influence as a force for good. And, by the way, if you love today's conversation, you'll also love her book, Influence is Your Superpower.
You can find Zoe at: Website | Twitter
If you LOVED this episode:
You'll also love the conversations we had with Charles Duhigg about building habits.
Check out our offerings & partners: 
Sleep Number:

Why choose proven quality sleep from Sleep Number? Because every great day starts the night before. And now, save $500 on the Sleep Number 360® C4 smart bed, queen now only $1,299. The lowest price ever for a limited time!

Only at Sleep Number® stores or

sleepnumber.com/GOODLIFE

. 

IMPACT: IMPACT makes it easy to find and invest in companies that share your values, helping to better align your portfolio with the kind of world you want to create. Trade your way to the world you want with IMPACT by Interactive Brokers. Download the app today and use code GLP to get $30 of stock credit. Disclaimers and Disclosures: Note: The podcast ad for the

IMPACT

 app is unscripted and being recorded live. It may contain some slight differences. Please visit https://

impact

.interactivebrokers.com/ for full details of products and services. Interactive Brokers, LLC member FINRA/SIPC. The projections or other information generated by

IMPACT

app regarding the likelihood of various investment outcomes are hypothetical in nature, do not reflect actual investment results and are not guarantees of future results. Please note that results may vary with use of the tool over time. The paid ad host experiences and testimonials within the Podcast may not be representative of the experiences of other customers and are not to be considered guarantees of future performance or success. The opinions provided within the ad belong to the host alone.
photo credit: Ian Christmann