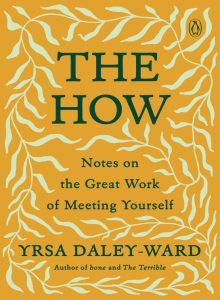 My guest today, Yrsa Daley-Ward, is an author, actor, model, and screenwriter of mixed Jamaican and Nigerian heritage. Growing up in the northwest of England, she found herself quickly exited from her home, being raised by her grandparents at the age of 6, and struggling in many ways to understand what had just happened. Reading and writing became her salvation. A more introverted kid, raised in a strict religious family, in a tradition that no one outside the family shared, being vegetarian, and the only Black person in her school who also happened to stand nearly a foot above her peers by her early teens, she yearned to just fit in. To not stand out. She didn't want to be different. 
Yet, something in the order of magic happened when her teacher noticed Yrsa's gift for language and asked her to begin sharing her poems before the class as spoken words. She came alive. It was like she stepped outside herself and all was as it should be. And that very feeling, though stifled for a time, would come roaring back to life years later when, living in Cape Town, South Africa, she stumbled into a weekly poetry group. Following a weekly prompt, Yrsa wrote a poem entitled Mental Health, then performed it from the stage. The response took her breath away. In that moment, she knew this would be her life. And, it has become just that.
Now, three books and many stages in, having cultivated a giant global community, co-written Beyoncé's musical film and visual album, Black Is King, her work has appeared in Vogue, Elle, Harpers Bazaar, and so many other outlets. Her work draws from her own experiences and larger issues affecting our behavior, culture, and life, fusing poetry with theatre, music, and storytelling, while sharing universal, often hard, but honest and real experiences in verse, in a way that draws you in and makes you feel less alone. Yrsa's newest book 'The How,' was written entirely during the pandemic, and we talk about her journey to this moment, explore some of the poems and ideas, and also dive into what it was like to create work that is so close to the bone at a moment like this.
You can find Yrsa at: Website | Instagram
If you LOVED this episode:
You'll also love the conversations we had with Cleo Wade, about crafting language, performing and moving people.
Check out our offerings & partners: 
Photo credit: Yrsa Daley-Ward