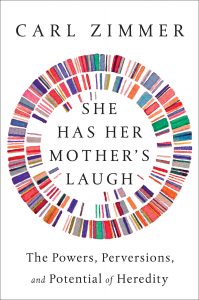 Is your DNA your destiny? Can you swap in better "source code" to save your life, change your appearance, be smarter or more athletic? Can a mother inherit DNA from her fetus? What do you really get when you pay for inexpensive genome-testing? These questions are just part of what we cover in today's deep with acclaimed science-writer,
Carl Zimmer
.
Zimmer writes the Matter column for the New York Times and contributes to The Atlantic, National Geographic, Time, and Scientific American, among others. He has won the American Association for the Advancement of Science's Science Journalism Award three times, among a host of other awards and fellowships. He teaches science writing at Yale University. His previous books include Parasite Rex, Evolution, and Microcosm.
His new book,
She Has Her Mother's Laugh
is a stunning, powerfully-researched, eye-opening look at the truth about heredity, DNA, what is truly in our control and the astonishing breakthroughs coming our way in just the next few years.
Check out our offerings & partners: 
Camp Good Life Project – BIG ANNOUNCEMENT – This is the final year of Camp GLP. It will be a celebration like no other. Join us and some 400 amazing people from around the world for 3 ½ days of connection, discovery, rejuvenation and reinvention and for a limited time, save $100. Learn more and grab your spot today!
Havenly – Get 25%-off your design package when you visit havenly.com/goodlife.
Photo Credit Mistina Hanscom