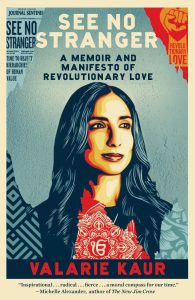 Valarie Kaur is an activist, documentary filmmaker, lawyer, educator, and faith leader. She rose to global acclaim in late 2016 when her Watch Night Service address asked the question, "Is this the darkness of the tomb – or the darkness of the womb?" The video went viral with 40 million views worldwide, and her question reframed the political moment and became a mantra for people fighting for change. The daughter of farmers in California's heartland brought up in the Sikh Faith, Valarie earned degrees at Stanford University, Harvard Divinity School, and Yale Law School. But, it was 9-11 that launched her down the now two-decades-long path of activism and advocacy, when those in her family and community became the targets of hatred and violence.

Over the last two decades, Valarie's work has led to policy change in everything from hate crimes, racial profiling, and immigration detention, to solitary confinement, Internet freedom, and more. She founded Groundswell Movement, Faithful Internet, and the Yale Visual Law Project to inspire and equip advocates at the intersection of spirituality, storytelling, and justice. More recently, she heads up the Revolutionary Love Project, which is both a movement and a powerful learning hub designed to help learn about loving others, opponents, and ourselves. Her debut book, See No Stranger, is both a memoir and a manifesto, calling us all into our better, more expansive and conscious selves. This conversation opened my eyes in so many ways. 
You can find Valarie at: Instagram | Understanding America: 20 Years Later
If you LOVED this episode:
You'll also love the conversations we had with Rev. angel Kyodo williams about the intersection between race, love, and liberation.
My new book is available for pre-order:
Order Sparked: Discover Your Unique Imprint for Work that Makes You Come Alive and get your book bonuses!
Check out our offerings & partners: 
Theragun: A deep muscle massage treatment, unlike anything you've ever felt. Feel better, move better, and recover faster with tension and soreness relief. Try Theragun for 30-days starting at only $199. Go to Therabody.com/GOODLIFE right now and get your Gen 4 Theragun today. 
Air Doctor: Capture contaminants and chemicals with a medical-grade UltraHEPA air purifier that's 100X more effective than ordinary purifiers. Go to airdoctorpro.com and use the promo code GOODLIFE to receive a 35% discount off their classic AirDoctor 3000 purifier.
Thumbtack: When you need to hire someone — a landscaper, a DJ, anyone — Thumbtack finds them for you for free. Get estimates right now from pros ready to do the job. Don't put off those projects any longer. Download Thumbtack and start crossing off your to-do list today.
Photo credit: Amber Castro