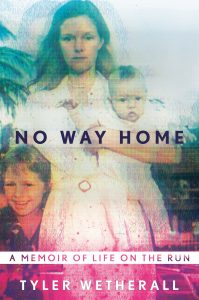 Tyler Wetherall didn't know her dad was a fugitive, until Scotland Yard came knocking. As a child, Wetherall's family was constantly changing countries and homes. But, to her, that was just "how things were. Life was an exciting adventure, until it all came crashing down and she realized the family had been on the run and the dad she loved so deeply was the one they were after.
Now, a British writer and journalist living in New York, in her memoir, No Way Home, Tyler shares this journey, how she discovered the truth, navigated the fraught relationship with her father and found a new normal. We dive into her life and also the decision to write a book that would reveal her and her family's secrets and how she created something that was true to her experience, while being respectful of those involved.
+———————+
Cool Stuff/Partners: 
Camp Good Life Project – $200 Super Early Bird Discount ENDS April 30th! Join us for 3 ½ mind-bending days of deep-learning, epic stories, friends-for-life, juicy adventures and ideas, strategies and tools for accelerated personal and business growth! It only happens once a year, and more than half the spots are already taken. Your SUPER early-bird $200 discount ends very soon (April 30, 2018). Learn more now and grab your spot! 
QUIP starts at just $25 and, if you go to

GetQuip.com/GoodLife

right now, you'll get your first refill pack FREE with a QUIP electric toothbrush.



FULLY:

So get your body moving in your workspace, go to

FULLY.com/GoodLife

. Fully. Desks, chairs, and things to keep you moving.
Photo credit: Sammy Deigh of C.A.N.V.A.S.®.