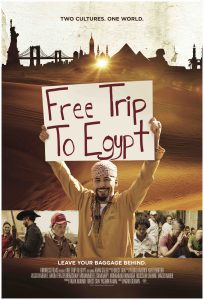 Tech-founder turned filmmaker, Tarek Mounib, had a crazy thought: what would happen if you brought together people from two radically different cultures, often presented by politicians and media as mutually hostile, to get to know each other in an intimate setting, as human beings…then filmed it all, then hoped for the best?
That's exactly what he did in his cultural-experiment turned documentary, Free Trip to Egypt. Mounib traveled the U.S. where he'd eventually bring together a group of Americans fearful of Islam, but willing to confront their own feelings and assumptions, for an all-expense-paid trip to Egypt, where they would spend their days with Egyptian counterparts. What happened next was more than Tarek could have ever hoped for — a remarkable sojourn of revelation, self-discovery connection for the participants, the filmmakers, and the viewer alike. And Tarek's just getting started. Join us today to hear the fascinating background story of his work and his new project, the #PledgeToListen campaign.
Check out our offerings & partners: 
Nimble: Get 25% off your first Nimble order! Just head over to gonimble.com/GOODLIFE and enter code GOODLIFE at checkout.
Enstrom: Shop Enstrom toffee and other sweet treats at Enstrom.com/GOODLIFE and receive up to 20% off your first order using promo code GOODLIFE.
Have you discovered your Sparketype yet? Take the Sparketype Assessment™ now. IT'S FREE and takes about 7-minutes to complete. At a minimum, it'll open your eyes in a big way. It also just might change your life.