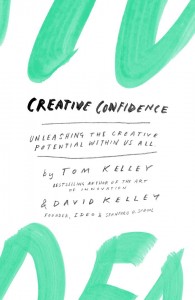 Tom Kelley is a partner at renowned design and innovation consultancy IDEO.
He's also a best-selling author, along with his brother, IDEO founder and Stanford d.school creator David Kelley, of a fantastic book called Creative Confidence. 
Beyond that, he is an Executive Fellow at the Haas School of Business at UC Berkeley and the University of Tokyo. As a leading voice on innovation, Tom travels the world, speaking on how to tap the creative potential of individuals and organizations and create a culture of innovation.
During his time at IDEO, he's helped the company grow from 15 designers to more than 600 innovators, working on projects that often make a global impact and lead to wide-scale paradigm-shifts. Even as an avowed entrepreneur, when I think about whether I could work with a larger company again, IDEO pretty much tops the list of dream places. Actually, it IS the list.
In today's conversation, we take a step back in time. Tom shares how the freedom to play and experiment he had as a kid led to the way he views the world now. We talk about creativity and innovation, especially design thinking, applying the process of design to business and innovation. He and his brother, David, are often credited with helping to define and bring this methodology to the world.
We explore the power of story, both in creativity and communications. We also talk about creative culture, what's necessary for it to flourish and we dive into the cancer diagnosis that led him to collaborate with David to write a fantastic book together and how that changed them both.
If you are looking to bring more creativity and innovation into what you're doing, this is a don't miss an episode with a leading voice in the field.
Be sure to subscribe to our weekly Good Life Updates and listen on iTunes to make sure you never miss an episode!