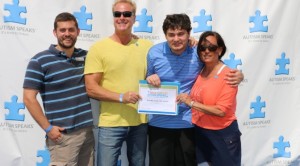 By the time people living with autism hit their mid-20s, they often "age out" of all the services and support available to them. Many, in fact, 80-90% end up unemployed, often for life according to this week's guest, Tom D'Eri.
Tom wasn't about to let that happen to his little brother, Andrew, who'd been diagnosed with autism at the age of three. Obsessed with entrepreneurship as a kid, and following in his dad's footsteps, Tom and his dad decided to create an entrepreneurial venture designed to both employ and provide community for those living with autism. They also wanted to show the local community and corporations that people living with autism can be wonderful contributors to a workforce.
The perfect vehicle, amazingly enough, was a car wash that came to be called Rising Tide Car Wash. What happened with that business, it's astonishing success, how it changed not only his brother, but also the lives of so many others, including him and his family, that's the conversation in this week's episode of Good Life Project.
Along the way, we also talk about Tom's dramatic change at age 11 from an overweight, non-athletic kid to the captain of nearly every major team and what triggered to metamorphosis. And we explore how autism affected the entire family, including Tom's dad's decision to stay true to his entrepreneurial calling, even in the face of six-figure therapy and medical bills.
Be sure to subscribe below and listen and subscribe on iTunes to make sure you never miss an episode!