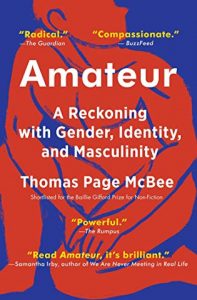 The first transgender man to box in Madison Square Garden, Thomas Page McBee is an author, journalist, and television writer who explores the intersection of gender, culture, identity, and masculinity. His latest book,
Amateur
, shares the powerful story that led him from the keyboard to the boxing ring and back again.
Check out our offerings & partners: 
Verishop: ShopVerishop for the fastest free shipping out there. New Verishop customers can take 15% off the first purchase. Just go to Verishop.com/GOODLIFE and use code, GOODLIFE.
Audible: Get 3 months of Audible for just $6.95 a month. That's more than half off the regular price. Visit audible.com/GOODLIFE or text GOODLIFE to 500-500.
Have you discovered your Sparketype yet? Take the Sparketype Assessment™ now. IT'S FREE and takes about 7-minutes to complete. At a minimum, it'll open your eyes in a big way. It also just might change your life.
Photo credit: Erik Tanner for El Pais