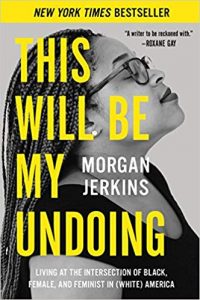 Morgan Jerkins is a journalist, author, editor, and professor at Columbia University. Her debut essay collection, This Will Be My Undoing, exploded into the public's consciousness last year, becoming an instant New York Times bestseller. She writes with a raw transparency and fierce sense of self-examination and revelation, sharing deeply personal, provocative stories, moments and reflections that often center around her experience as a woman of color, intersectionality, feminism, the writing life and the world of publishing, gender and race and so much more. Morgan has also been featured in The New Yorker, The New York Times, Esquire, Rolling Stone, The Atlantic and is a Senior Editor at ZORA.

Check out our offerings & partners: 
Skinsei: Visit Skinsei.com/GOODLIFE for a free diagnostic & get 20% off your first order with code GOODLIFE
Everlane: Right now, you can check out our personalized collection at Everlane.com/GOODLIFE plus, you'll get free shipping on your first order.
Circle: Right now, our listeners get a limited time offer of $30 off of a Circle Home Plus, when you visit meetcircle.com/goodlife and enter GOODLIFE at checkout.