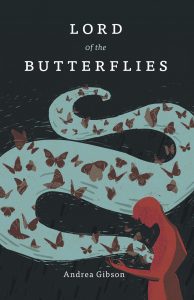 Andrea Gibson is one of the most stirring and influential spoken word artists of our time. Best known for their live performances, in which they regularly sell out large capacity rock clubs and concert halls, Gibson has changed the landscape of what it means to attend a "poetry show" altogether. Gibson's poems center around LGBTQ issues, gender, feminism, and mental health, as well as gun reform and the dismantling of oppressive social systems. Their live shows, in which they are often accompanied by musicians, have become these loving and supportive ecosystems for audiences to feel seen, heard, and held through Gibson's art.
Gibson is the author of six books, including Lord of the Butterflies, which won the Independent Publisher's Award in 2019 as well as a Goodreads Choice Awards Finalist. Take Me With You, an illustrated collection of Gibson's most memorable quotes, was also a Goodreads Finalist. In 2019, they co-authored their first-ever non-fiction book, How Poetry Can Change Your Heart.
In addition to their publishing accolades, Andrea has released seven full-length albums, combining their socially active spoken word with musical collaborations. They are the winner of the first-ever Women's World Poetry Slam Championship (2008) and frequent World Poetry Slam Finalist. 
You can find Andrea Gibson at: Website | Instagram 
Check out our offerings & partners: 
Sleep Number: Save up to $700 on select NEW Sleep Number 360 smart beds, with temperature balancing benefits so you both sleep just right. Only at Sleep Number stores or sleepnumber.com/GOODLIFE
Factor 75: Right now, Factor is offering listeners of Good Life Project $60 off over their first two weeks. Just go to factor75.com, pick your meals and use code GOODLIFE at checkout.
Photo credit: Coco Aramaki