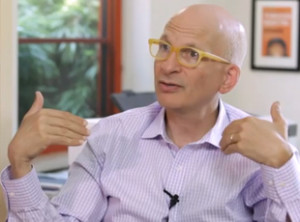 When people talk about Seth Godin, they often attach a variety of labels.
Entrepreneur, marketer, mega-bestselling author, acclaimed speaker, trusted-advisor, provocateur, raconteur extraordinaire and ruckus-maker.
He is all those.
But, when I think of Seth, the first word that comes to me is generous. Seth is a stunningly insightful thinker and doer. But beyond that, he is kind, compassionate and fiercely curious. And, I'm fortunate to also call him a friend.
So, when I had a chance to sit down with Seth to record a conversation about everything from his love of books and technology, creativity and making, fear and experimentation and what it really means to live a good life, it was one of those conversations I didn't want to end.
We first aired this conversation as a GLP TV episode. I'm so excited to share this "Best Of" episode with you now as a podcast.
Be sure to subscribe below and listen and subscribe on iTunes to make sure you never miss an episode!