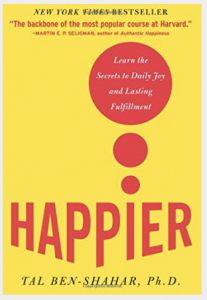 Growing up in Israel, Tal Ben-Shahar wanted to be the best squash player in the world. He turned pro at a young age and quickly rose up the ranks. Then a strange thing happened, he achieved his dream, but crashed hard, realizing it didn't make him feel how he thought it would. That experience set in motion a lifelong journey into the science of happiness that led him to study at Harvard, then eventually teach what became the most popular course at Harvard on happiness. 
Tal is now a bestselling author and lecturer, working with executives in multinational corporations, everyday humans, and at-risk populations exploring leadership, happiness, education, innovation, ethics, self-esteem, resilience, goal setting, and mindfulness. His books have been translated into more than twenty-five languages and have appeared on best-sellers lists around the world. Tal is a serial entrepreneur and is most recently the co-founder and chief learning officer of Happiness Studies Academy, bringing together the thinking of the world's leading scholars and the latest scientific research on happiness, then educating leaders who are themselves dedicated to personal, interpersonal, and communal flourishing.
You can find Dr. Tal Ben-Shahar at: Website | Instagram
Check out offerings & partners: 
1800Flowers: Join the conversation with a community of individuals seeking ways to improve their life, offering advice and engaging with others as they navigate life's journey. And it's free! Visit 1800FLOWERS.com/COMMUNITY
Nutrafol: Improve hair growth with added sleep and stress benefits.

 Go to

 Nutrafol.com and use promo code GLP to get 20% off. Plus FREE shipping on every order.