Guest:
Susan David, Ph.D.
 is a Psychologist on the faculty of Harvard Medical School; resilience expert, co-founder and co-director of the Institute of Coaching at McLean Hospital, CEO of Evidence Based Psychology, and author of
Emotional Agility
.
Story: Growing up in South Africa, Susan lost her father at a young age. During this pivotal time, everyday heroes emerged in her life, helping to guide her through her grief as an experience of resilience and emotional agility. This became the foundation of her quest to understand and improve the human condition.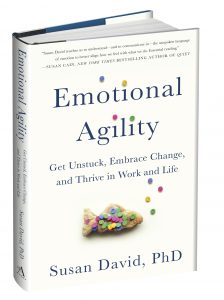 Big idea(s): Instead of simply "pushing through" to positivity, there are practical ways that we can be with ourselves and our emotions that begin to activate our readiness potential, goal setting, and capability to make real change in our lives. Our emotions have evolved to help us survive in the world. If we push them aside, we lose our ability to respond effectively. Courage is not the absence of fear. Courage is being able to notice your fear and your disquiet and chose the right thing to do, in alignment with your values.
You'd never guess: How Susan's teacher's "intervention" sparked her entire career and ultimately helped form her view of herself as resilient and capable in the world.
Current passion project: Researching and teaching others about our emotions, hidden drivers, and below-the-radar impulses, and how they Ȋcontrolȋ us when we interact with the world and others around us.
Photo credit: Dana Patrick Photography