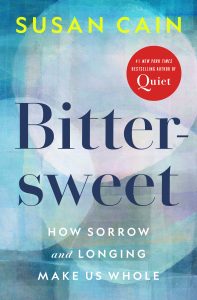 Ever wonder why a certain sad song or even a few bars of just the right melancholy music will stop you in your tracks and maybe even move you to tears? Turns out, you're not alone. My guest today, Susan Cain, has spent years researching why certain experiences – ones that connect us to sadness, longing, or sorrow – move us so deeply, and actually add profoundly to our lives. Susan's first book, Quiet: The Power of Introverts in A World That Can't Stop Talking, has been translated into 40 languages, spent seven years on the New York Times bestseller list, and was named the #1 best book of the year by Fast Company magazine, which also named Susan one of the Most Creative People in Business. 
Susan and I have been friends since before she launched her quiet revolution, I've always appreciated her deep wisdom, generosity, kindness, and a level of introspection, curiosity, and contemplative thought that's so rare these days. And, lucky for all of us, she's been focusing those observational and intellectual superpowers on a topic that is so universal, and yet also so misunderstood – longing. Susan's new masterpiece, Bittersweet: How Sorrow and Longing Make Us Whole, is a powerful look at why that feeling of yearning, of bittersweetness and longing, is, in fact, not just common to every sentient being, but also necessary and a critical element of a life well-lived, and source-fuel for some of the greatest works of art, science, and creation in history. And, that is exactly what we're diving into today.
You can find Susan at: Website | Instagram | Susan's TED Talk | Bittersweet Spotify Playlist
If you LOVED this episode:
You'll also love the conversations we had with Elizabeth Gilbert about longing and loss.
Check out our offerings & partners: 
photo credit: Aaron Fedor