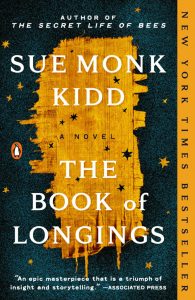 How does a surgical and pediatric nurse become one of the most widely acclaimed writers of our time? This was the jumping-in point for my conversation with Sue Monk Kidd. From her earliest memories, Sue wanted to write, but growing up in a small town in Georgia, she was channeled into a much narrower set of career offerings that were offered up as the "only appropriate kinds of work for a woman." That never sat well with Sue, but not quite having found her own voice yet, she ended up following the thread into nursing school, then into a season of life where she built a career in medicine while raising a family. But, when she turned 30, that stifled yearning to make writing her devotion was reawakened. She literally announced she was going to be a writer out loud to her husband and kids at the kitchen table, who didn't quite realize the seriousness of what had just happened. 
Profoundly influenced by contemplative writers, like Merton, Sue began to pen essays, meditations and stories and see them published, which led to books about her own take on life, feminism, and a more expansive and inclusive spirituality. Then, more than a decade into her writing life, she did what writers are so often cautioned away from. Sue changed lanes from nonfiction to fiction, writing short stories, and eventually, going all-in on a novel that would become the mammoth, international blockbuster, A Secret Life of Bees, the writing of which was its own 5-year odyssey. 
As we sat down, we explored this incredible journey, and how she navigated major shifts in both career and life. We also dive into her most recent novel, The Book of Longings, a fictional imagining of the early life of Jesus, told through the eyes of an equally strong and vibrant wife, whose presence would never "make" the pages of history. You can imagine, this book stirred a lot of conversation and served as a provocation to explore not only this story, but also the frame that is brought to the way stories of women have, and have not been told throughout history, and who holds the power of the pen.
You can find Sue at: Website | Instagram
If you LOVED this episode:
You'll also love the conversations we had with Elizabeth Lesser about the writing life and the role of women in historical narratives.
 Check out our offerings & partners: 
photo credit: Tony Pearce