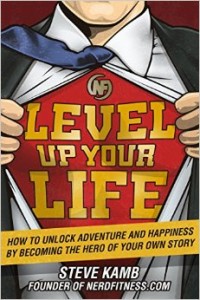 Nerd. Gamer. Athlete.
Three words you rarely hear uttered in the same sentence, let alone to describe any one person (unless you're talking about epic movie battles).
But, that "triple-threat" describes founder of the global Nerd Fitness movement and author of Level Up Your Life, Steve Kamb, perfectly.
A lifelong gamer and nerd, Steve found himself exposed to the world of fitness later in life. It was like a switch turned on. His life was transformed, and he wanted to find a way to apply what he knew about game-theory and technology to fitness in a quest to help millions of people break out of the fits and starts and finally reclaim their health.
So, he created his Nerd Fitness revolution, the members of which call themselves The Rebellion. It seems he struck a chord. Nerd Fitness exploded, growing rapidly into a global community with more than 250,000 members and millions of visits to their online home every month.
But, that's not all, Steve also figured out how to literally turn his everyday life into a living, breathing video game he calls his Epic Quest of Awesome. One that has taken him on incredible adventures all over the world, from Croatia to Brazil and Monaco to Munich, all while spending very little money.
His new book, Level Up Your Life is essentially the manifesto for the revolution.
In this week's conversation, we explore Steve incredible adventure, we dive into how he stumbled upon the "unlock key" for physical transformation in the world of gaming and how he has worked to engineer Nerd Fitness to help people do what seemed impossible before. Oh, and how along the way, he's figured out how to live a deeply adventurous and meaningful life
Be sure to subscribe to our weekly Good Life Updates and listen on iTunes to make sure you never miss an episode!