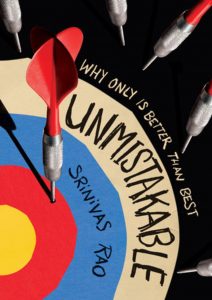 Srinivas Rao was following the typical life path for an American kid. Raised in a family steeped in high-expectations of professional success, he ended up pursuing an MBA at Pepperdine. He figured, when he got out, like most MBA grads, he'd be minted. Except for two things.
He graduated in the worst time in the U.S. economy since the Great Depression. No job awaited him. But, deeper down, something else was brewing, an inner knowing that this wasn't really his path.
He had to find a different way. This thrust Srini into a journey of self-discovery, one that, below the surface, had been going on for years. Everything changed when he discovered surfing. When Srini was in the water, nothing else mattered. He came back into himself. Reconnected with a deeper truth. And, from this place, began to own a deeper calling to become an artist, to build community and to harness his innate gift for storytelling.
This led him down the path of writing and telling stories through a variety of media, including print, audio, video. He became one of the early guard in the world of podcasting, built a brand, and even ran a conference. But, underneath it all, everything was still not quite right.
He found himself spiraling into a deep depression. And, once again, would need to face some truths, before he could make his way back. But, this time, he'd have to do it all while living and earning his living in the public's eye.
Srini talks about this journey, from amazing highs, to self-exploration to moving through depression and emerging into a better place in his new book Unmistakable: Why Only Is Better Than Best. There, he also lays out a powerful framework for becoming unmistakeable, using surfing as a metaphor.
In this week's conversation, we explore the turning points, the beautiful highs, transformative friendships, the connection with waves and the still-remaining stigma around depression and how Srini made it through to the other side. He provides some very real insight into what it's like to live life on a very public platform, a reality which was complicated greatly as he struggled to get up every morning. We also explore his love of storytelling and how he navigated building an unconventional career, after growing up in an Indian-American household with very different expectations. Enjoy!
Mentioned in This Episode:
Be sure to subscribe to our weekly Good Life Updates and listen on iTunes to make sure you never miss an episode!
Camp GLP is about connecting, playing, lighting up on a deeper, more meaningful level. One that bypasses the normal superficial yadda yadda yadda and makes a beeline to the soul. Come join us.