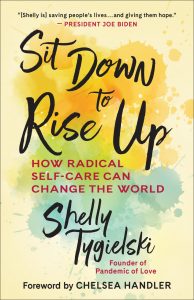 Brought up in a deeply observant Jewish Orthodox household with a reverence for her family's history, Shelly Tygielski embraced the traditions, teachings, and practices of her faith, even spending summers in Jerusalem with family. Heading to college, then grad school, she pursued her masters in international affairs, then began building a powerhouse career in business, along with a family. But, along the way, she found herself questioning the rules and assumptions by which she lived, and the more she did, the more the walls began to come tumbling down. 
At 27, diagnosed with a chronic disease that left her temporarily blind, she knew a different narrative needed to be set in motion. She began to embrace her then years-long exploration of Eastern traditions and practices, growing largely out of Tibetan Buddhism, and started the process of reclaiming and reimagining her life. A process that would eventually lead her away from a 20-year career at the highest levels of business and into the world of advocacy and self-care. Though, as you'll learn, advocacy and a deep exploration of the heart and mind, have always been a part of her DNA. 
Shelly began teaching meditation to a few friends on the beach, and each time, more people started showing up, until her Sunday meditation on the beach grew into a community of more than 15,000 people that call themselves The Sand Tribe. Her promise – no barrier to entry, all are welcome. Her fierce devotion to elevating others led her to post a simple form online during March of 2020, connecting those in need with those who wanted to help. It went viral, becoming a global mutual aid movement called the Pandemic of Love that has now generated more than $60-million in mutual aid, matched over 2-million people, and served as a bridge to see the humanity in others at a time it's needed more than ever. She shared much of this journey in her powerful new book, Sit Down to Rise Up: How Radical Self-Care Can Change the World.
You can find Shelly at: Website | Instagram
If you LOVED this episode:
You'll also love the conversations we had with Jennifer Pastiloff about leading with love and compassion.
Check out our offerings & partners: 
photo credit: Demetrius Philip