Scott Stabile had every reason to be angry with the world, but he chose love instead.
At the age of 14, Scott's parents were killed at the market they ran, leaving behind a family of seven kids. Stabile was the baby of the group, and nine years later, his brother overdosed and died from a heroin addiction.
In those years, he was surrounded by a lot of tragedy, addiction and loss. And, he buried it all, keeping it secret through school, until eventually, it couldn't stay buried any longer. His awakening eventually led him into a journey of discovery where his deep seeking for answers and connection led him to San Francisco and eventually into the embrace of a cult, where he stayed for many years.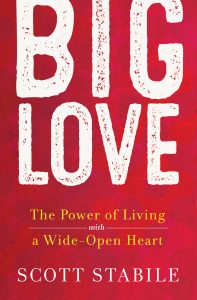 Flowing through all of this was Scott's internal, turned external struggle with his sexuality as a gay man at a time when being out was a very different experience than it is now. Through it all, though, Scott continually found a way to turn back to love. And eventually, he made a choice that stuck, to live on his own terms, no matter what comes his way, with a wide-open heart. He began to share his journey and philosophy through teachings, workshops, and inspirational posts and videos that have attracted a huge and devoted social media following. And, he began to create and write.
His previous works include Just Love, Iris, and the Li'l Pet Hospital series. Scott also wrote the feature film The Oogieloves in the Big Balloon Adventure, an eye-opening experience he writes about in his new book, Big Love: The Power of Living with a Wide-Open Heart.
In today's episode, we dive into this powerful journey.
+———————+
We're grateful for the kind support of: 
ShipStation: Manage and ship your orders. FREE for 30 days, plus a bonus. Visit ShipStation.com, click on the microphone at the top of the homepage and type in GOODLIFE.
Harney & Sons Fine Teas by Master Tea Blenders: $15 off your first order of $49 or more. Go to Harney.com and use promo code GOODLIFE for your $15 off.
HelloFresh: For $30 off your first week of HelloFresh, visit hellofresh.com and enter goodlife30.
Photo credit: Goran Duvancic