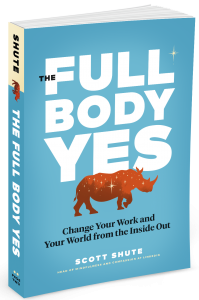 How does a kid who grew up on a farm in the midwest, who struggled with mental illness on a level that led him to contemplate taking his own life, end up a rising star in industry, author, and the Head of Mindfulness and Compassion at mega tech-company LinkedIn? More than that, how does he end up deeply present, at peace, and alive with possibility and joy? That is the trajectory of today's guest, Scott Shute.
For more than two decades now, Scott has been on a quest to weave together the modern workplace and ancient wisdom traditions, blending a lifelong spiritual practice and passion with practical leadership and operations. It's been the expression of something akin to a "download" he got early in life to change work from the inside out. His approach has been "mainstreaming mindfulness" and "operationalizing compassion." Which has not always been an easy sell. Scott is also the author of The Full Body Yes, and one of the powerful voices and teachers behind the InnerMBA, a nine-month online immersion for entrepreneurs, executives and employees who believe business is a force for good in the world, and want to achieve success while making a difference.
You can find Scott at: Website | Instagram
If you LOVED this episode:
You'll also love the conversations we had with Tara Brach about finding equanimity and compassion.
Check out our offerings & partners: 
Peloton: Access high-energy workouts, instantly. Discover Peloton: streaming fitness classes to you live and on-demand. With the Peloton Bike, there's nothing like working out from home. Learn more at onepeloton.com. New members can try Peloton classes free for 30 days at onepeloton.com/app. Terms apply.
Lovevery: Award-winning, Montessori-inspired toys and subscription boxes for babies and toddlers. Designed by child development experts and sustainably made. Take the guesswork out of your child's play. Choose Lovevery today and get free shipping when you sign up to receive your Play Kits at Lovevery.com/GOODLIFE
My new book, Sparked: Discover Your Unique Imprint for Work that Makes You Come Alive is now available for pre-order at https://sparketype.com/book/
photo credit: Anjali Shute