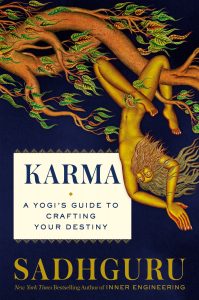 Ranked among the fifty most influential people in India, Sadhguru is a yogi, mystic, and visionary. He has been conferred three presidential awards in India, including one for his environmental work as well as the country's highest annual civilian award for exceptional and distinguished service. He's spoken before the United Nations, World Economic Forum, World Bank, the UK House of Lords, TED, and countless global companies, and has also been invited to present at Oxford, Stanford, Harvard, Yale, Wharton, and MIT, among others.
Over the years, Sadhguru has also launched large ecological initiatives that have created a blueprint for economic development that is ecologically sustainable. And three decades ago, Sadhguru founded Isha Foundation, a nonprofit human-service organization, with human well-being as its core commitment. The foundation has initiated yoga programs for human transformation and outreach projects to uplift rural communities. Isha is supported by over 11 million volunteers in more than 300 centers worldwide.
We explore his extraordinary life's journey today, then drop into the focus of his latest book, Karma: A Yogi's Guide to Crafting Your Destiny, which has also been a concept that has fascinated me for years.
You can find Sadhguru at: Website | Instagram
If you LOVED this episode:
You'll also love the conversations we had with Nepal-based French philosopher, writer, teacher, and Buddhist monk Matthieu Ricard, who, after having his brain study by neuroscientists, was kind of dubbed with a smile, The World's Happiest Man.
Check out our offerings & partners: 
OUAI: Get healthy hair & soft skin with our nourishing formulas; free shipping over $50. Simple routines & real solutions for real people by Jen Atkin. Cruelty-free.

So when you're ready to undo some damage, hit the reset button with the OUAI Detox Shampoo. Go to

theouai.com

 and use code

GOODLIFE to get 15% off your entire purchase.
Active Skin Repair: Use Active Skin Repair on cuts, scrapes, sunburns, normal burns, chaffing, rashes, wounds. Works on insect bites & other skin irritations. Antibiotic-free & non-sensitizing. Get 20% off your order and FREE shipping by texting GOOD to 64-000. Message and data rates may apply.
Indeed: Connect with your talent audience so you can make more quality hires faster. Post your job, interview candidates, and make offers all on Indeed. Start hiring today. Get started right now with a FREE $75 sponsored job credit to upgrade your job post at  Indeed.com/GOODLIFE
photo credit: Courtesy of Isha Foundation