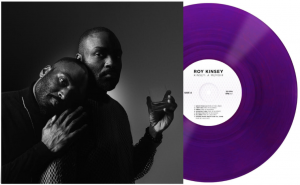 My guest today, Chicago-born and raised, Roy Kinsey, is a bit of an anomaly. A black, queer-identified, rapper, and librarian or as he puts it, Rapbrarian. Roy's escape from trauma and creative outlet as a kid was writing and music and also a love of books and learning. He began sharing his words and beats, rapping at a young age, but really began to elevate his pursuit of music-making in college, performing and refining his craft. Graduating, he began making a name for himself, performing, recording and releasing albums, while simultaneously earning degrees that would find him working as a librarian by day and an artist by night.
A few albums in, Roy began to feel like an essential part of him was being kept from his music and also his community, so he made the decision to come out as queer on an album at a time very few others in the space of rap and hip-hop were out. It was a moment that would transform him and his music. Roy has since released a series of powerful albums, including his latest powerful reflection, KINSEY: A Memoir. He's been featured on the cover of major local publications like Chicago Reader and the Chicago Tribune, in and on major national, and international publications like Billboard, LA Times, NPR, WBEZ's Vocalo. And Roy has even found a way to bring his love of music and books together, running workshops as a librarian in the Teen Services/Youmedia department for Chicago Public Libraries.
You can find Roy Kinsey at: Website | Instagram
Check out our offerings & partners: 
Backcountry: The best outdoor gear online for people who love to get outside. Find everything you need for your next adventure. Go to Backcountry.com/GOODLIFE and enter promo code GOODLIFE to get %15 OFF your first full-priced purchase. Some exclusions apply.
Organifi: Made with whole food, organic ingredients and less than 3g of sugar, Organifi superfood blends match convenience with taste. Go to organifi.com and use code GOODLIFE for 15% off any item in the store.
Nutrafol: Improve hair growth with added sleep and stress benefits.

 Go to

 Nutrafol.com and use promo code GLP to get 20% off. Plus FREE shipping on every order.
photo credit: Daniel Delgado