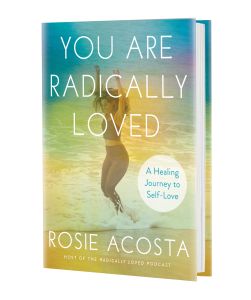 How do you create a radical change in direction in your life? My guest today, Rosie Acosta, found herself asking that question in her mid-teens, after being arrested, and the answer came in a way she never saw coming. Born and raised in East LA at a time when gang violence was the norm, Rosie pushed up against authority from a young age. But, after being arrested, a simple sentence led her to commit to a radical reimagining of her own life. She didn't know what form or shape it would take, until one day, ditching school, she found herself in the Self Realization Fellowship in LA, listening to the words of a woman who would change her life, and lead her down a path of spirituality she never saw coming. Especially since she'd rejected religion, or anything smacking of faith, in the years before.
Now, a sought-after advisor, coach, yoga and meditation teacher, she travels the world leading workshops, retreats, and trainings, boasts a private clientele that includes Olympic athletes, NFL champions, NBA All-Stars and veterans of war, and hosts the Radically Loved podcast. A first-gen Mexican-American, Rosie's mission is to help others overcome adversity and experience radical love, and she shares her philosophy on radical love in her new book, You Are Radically Loved: A Healing Journey to Self-Love.
You can find Rosie at: Website | Instagram
If you LOVED this episode:
You'll also love the conversations we had with Justin Tranter about defying convention and expectation and carving your own path in the world.
Check out our offerings & partners: 
photo credit: Torry Pendergrass