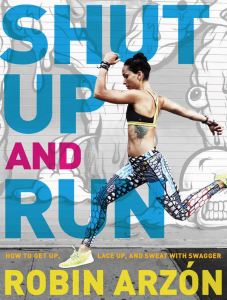 Robin Arzón knew she wanted to be a lawyer since she was 10 years old, went to NYU, the Villanova Law and landed a job at a top firm in New York where she practiced for 7 years. But, along the way, a series of events would profound change her path. While still an undergrad she found herself being held at gunpoint in the middle of a standoff with police. That moment shook her and she found herself, much to her surprise turning to running as a way to both process the trauma and reclaim her power.
What began as a two-mile jog to school after a largely sedentary life, turned into a deep passion for movement, running, especially at night in the city with a sort of fitness-counterculture group of friends, taking on marathons and ultramarathons. This passion would eventually lead her out of the law, into the world of fitness, media, teaching, activism and to writing a New York Times bestselling book, Shut Up And Run about her philosophy of movement and life. Her passion for running also expanded to fitness, indoor cycling and business, where she found a home as Vice President of Fitness Programming and Head Instructor at Peloton, and brand ambassador for some of the world's top fitness brands.
Check out our offerings & partners: 
Vistaprint: Get 500 high-quality, custom business cards starting at$9.99. Use code GLP at Vistaprint.com
Noom: You don't have to change it all in one day. Small steps make big progress. Sign up for your trial today at noom.com/GOODLIFE
NetSuite: Business management software on an easy to use cloud platform. Get NetSuite's guide "Crushing the Five Barriers to Growth" when you go to NetSuite.com/GOOD now.
photo credit: Ruben Elstner