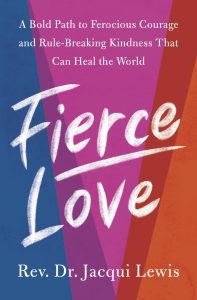 The Rev. Dr. Jacqui Lewis is an author, Activist, and Public Theologian, the first woman and first Black Senior Minister at Middle Collegiate Church, which is a multiracial, incredibly welcoming, and inclusive congregation in the Lower East Side of New York City, which dates to 1628. Growing up in church in the South Side of Chicago, the assassination of Dr. Martin Luther King, Jr., when she was nine incited what would become a lifelong devotion to activism and social justice. Graduating school, then spending a decade working in the corporate world, she felt called to redefine how she would step into her own exploration of faith, attending Princeton Theological Seminary, then devoting herself to urban ministry, with the intention of reimagining what faith, church, and community could be. 
Eventually becoming a leader in Middle Church, Rev. Lewis has been instrumental in bringing together what she calls a "multiethnic rainbow coalition of love, justice, and worship that rocks her soul," and has remained a leading voice in activism, with her work have featured by the TODAY Show, MSNBC, The New York Times, Wall Street Journal, and Washington Post, among many others. She is the creator of the MSNBC online show, Just Faith and the PBS show, Faith and Justice, in which she led important conversations about culture and current events. Her podcast, Love.Period., is produced by the Center for Action and Contemplation. And her new book, Fierce Love: A Bold Path to Ferocious Courage and Rule-Breaking Kindness That Can Heal the World, is a deep exploration of faith, race, justice and transformation, bundled with exercises that invite you in a path of personal growth, activism and collective elevation.
You can find Rev. Dr. Jacqui Lewis at: Website | Instagram | Love.Period. podcast
If you LOVED this episode:
You'll also love the conversations we had with Bishop Michael Curry about love as a path to reconciliation and healing.
My new book is available!
Check out our offerings & partners: 
Peloton: Access high-energy workouts, instantly. Discover Peloton: streaming fitness classes to you live and on-demand. With the Peloton Bike, there's nothing like working out from home. Learn more at onepeloton.com. New members can try Peloton classes free for 30 days at onepeloton.com/app. Terms apply.
photo credit: Béatrice de Géa