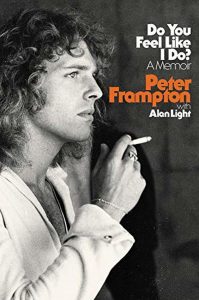 When I think about Peter Frampton, I'm immediately transported back to my teens when Peter's musical juggernaut of a live-album, Frampton Comes Alive, took the world and my life by storm with anthemic songs like Do You Feel Like We Do, Show Me the Way, Lines On My Face and Baby, I Love Your Way. I cannot think about those songs without also hearing what became his signature voice-box sound vibrating through my body.
Known in his earlier years for his fierce talent as a guitarist and musician, co-founder one of the first rock-supergroups, Humble Pie, and a collaborator with everyone from George Harrison, David Bowie, and Jerry Lee Lewis, to then Stones bassist, Bill Wyman, and Ringo Starr, that album changed everything. Frampton Comes Alive became a global phenomenon and bestselling live album for decades. 
Following on the heels of the album came an equally iconic, shirtless cover of Rolling Stone, shot by Francesco Scavulo and accompanied by a feature story written by a then-young Cameron Crowe, Peters ascendency, powerful as it was, also came with a very dark side. It recast him as a pop-star, an idol or sex-symbol, and icon in an industry that was built to take advantage of just such a phenomenon. The years that followed took Peter, his life, mental health and career into some very scary and lonely places, before his childhood friend, David Bowie, would step in with an invitation that set in motion a certain reclamation, a renewed sense of self, and passion, and direction that fueled Peter to step back into music in a way that nourished, rather than emptied him. 
Much of Peter's story is beautifully shared in his memoir, Do You Feel Like I Do, which I devoured, actually in audio, hearing him tell it in his own voice. In our conversation, we explore many of the pivotal and wonderful moments and stories along the way, as well as some new revelations. As we spoke, Frampton, now 70, also shared his experience living with an incurable degenerative muscular disease – Inclusion Body Myositis – and how, as he described it, he's got 3 clocks running that are essentially ticking away as he's unable to travel, hoping to be able to make it to the final few stops of a farewell concert he'd planned to play, back where he grew up, while he's still able. 
You can find Peter Frampton at: Website | Instagram 
Check out our offerings & partners: 
Freshly: Each Freshly meal is perfectly sized for 1 person to enjoy at 1 sitting. Fully-prepared meals are delivered fresh, and ready to eat in 3 minutes.  Get $40 off your first two orders when you go to freshly.com/GOODLIFE
Talkspace: Online Counseling Via Text, Audio, Or Video Messaging. At Any Time, From Anywhere. Get $100 off of your first month with Talkspace. To match with a licensed therapist today, go to Talkspace.com or download the app. Make sure to use the code GOODLIFE to get $100 off of your first month and show your support for the show.
Beachbody: 1,500+ Workout Classes And Meal Plans. Coaches To Help Define And Reach Your Health Goals.

To get a special FREE trial, no obligation membership, text GOODLIFE to 303030.
Photo credit: Austin Lord