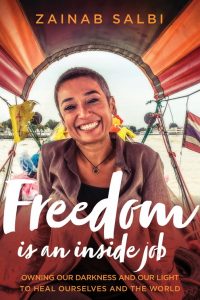 Zainab Salbi is a humanitarian, author, and global change-maker. At the age of 23, Salbi founded Women for Women International, a grassroots humanitarian and development organization dedicated to serving women survivors of wars by offering support, tools, and access to life-changing skills to move from crisis and poverty to stability and economic self-sufficiency.
Under her leadership as the organization's CEO (1993-2011), the organization grew from helping 30 women upon its inception to more than 400,000 women in 8 conflict areas. It also distributed more than $100 million in direct aid and microcredit loans that impacted more than 1.7 million family members.
But, the whole time, she was living with a huge, dark secret. In her new book, Freedom is an Inside Job, she shares how owning our darkness along with our light is the unlock key for self-healing and global transformation. And, in today's conversation she shares how this realization awakened her to the need to own her own dark family secret in order to heal herself and serve at a higher level.
Check out our offerings & partners: 
Photo credit: Copyright 2018 Eric van den Brulle