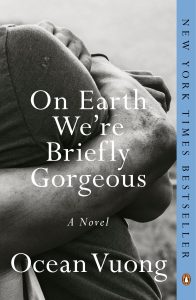 A refugee at the age of two, Ocean Vuong and his mom found themselves fleeing Saigon, Vietnam, traveling across the globe, then dropped into a world that was simultaneously a source of renewal and safety, while also delivering a daily dose of profound othering. The English language came slowly to Ocean, struggling to read at the age of 11. But, over time, his deep curiosity and sense of observation led to a love of language that grabbed hold and never let go. 
In 2016, he released a critically acclaimed poetry collection Night Sky that dazzled the literary world. His gorgeously written and deeply stirring first novel, On Earth We're Briefly Gorgeous, which became an instant New York Times bestseller, draws largely on his experience growing up in Hartford, Connecticut with a mom who shared a complex love in a community he seemed perpetually estranged from. A recipient of the 2019 MacArthur "Genius" Grant, Ocean is also the winner of the Whiting Award and the T.S. Eliot Prize. His writings have been featured in The Atlantic, Harper's Magazine, The Nation, The New Republic, The New Yorker, and The New York Times. 
You can find Ocean at: Website | Instagram
If you LOVED this episode:
You'll also love the conversations we had with Axel Mansoor about the experience of being a third culture kid and how he found an outlet in music.
Check out our offerings & partners: 
Everlane: Shop Everlane for the most beautiful essentials, at the best factories, without traditional markups. Go to everlane.com/goodlife 

and sign up for 10% off your first order plus free shipping. And get easy returns within 30 days of your ship date.

Lovevery: Award-winning, Montessori-inspired toys and subscription boxes for babies and toddlers. Designed by child development experts and sustainably made. Take the guesswork out of your child's play. Choose Lovevery today and get free shipping when you sign up to receive your Play Kits at Lovevery.com/GOODLIFE
photo credit: Peter Bienkowski