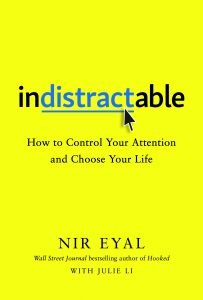 Five years ago, Nir Eyal showed the world how tech-companies build apps, games, and platforms that highjack your attention and become near impossible to stop using in his book, Hooked: How to Build Habit-Forming Products. That book became a global phenomenon and opened people's eyes to the power of technology to not just help, but consume our lives. His new book, Indistractable: How to Control Your Attention and Choose Your Life, serves as a guidebook for getting the best of technology and reclaiming our attention, without letting it get the best of us. In addition to writing and speaking, Eyal has also lectured at Stanford's Graduate School of Business and the Hasso Plattner Institute of Design. You can find two tools references in the conversation here: schedule maker tool | distraction guide.
Check out our offerings & partners: 
ZipRecruiter: Right now, you can try ZipRecruiter FOR FREE at this exclusive web address: ZipRecruiter.com/GOOD
NetSuite: Business management software on an easy to use cloud platform. Get NetSuite's guide "Crushing the Five Barriers to Growth" when you go to NetSuite.com/GOOD now.
Photo credit: Justin Patterson Photography