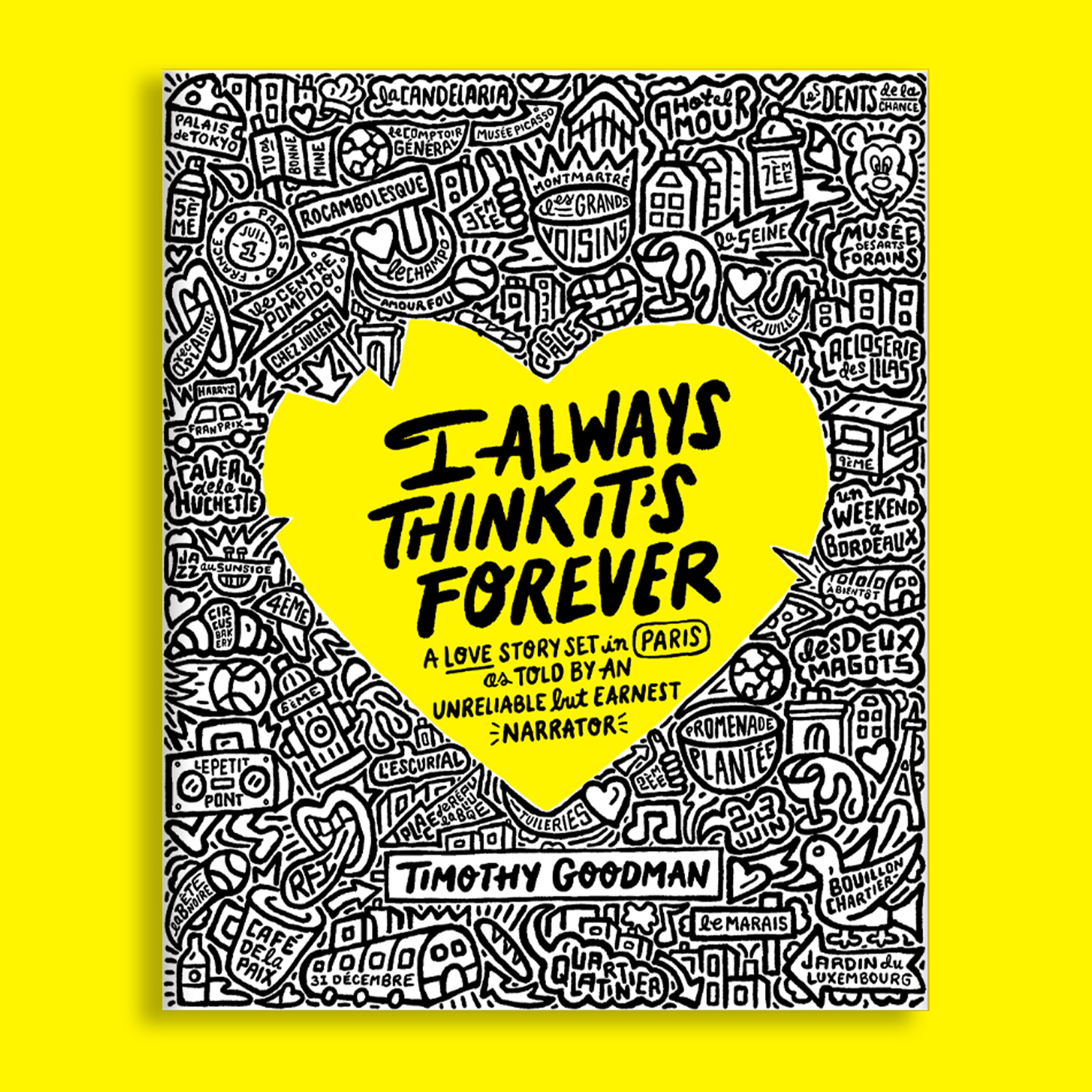 What if you didn't have to keep everything bottled up? Or show up a certain way? Or deny what you're going through or feeling? What if you could just sit with it, feel it fully, then find a way to not only release it, but turn those feelings, thoughts, and emotions into something that went out into the world and moved people to feel and connect and love and laugh, too?
This is the work, the world, and life of New York City designer, illustrator, muralist, and author, Timothy Goodman. Surviving early life trauma, losing himself to drugs, getting arrested, and barely graduating high school, a chance encounter with a boss who'd become a mentor rekindled a passion for art and expression that had been seeded by the example of his grandma decades earlier. He was smitten with design, storytelling, and art and poured himself into it, eventually finding his way to New York City, studying at SVA, and knowing in his bones, this would be his home for life. Over the years, he's built a stunning career. 
Timothy's art and words have populated walls, buildings, packaging, shoes, clothing, books, magazine covers and galleries all over the world for brands such as Nike, Apple, Google, MoMA, Netflix, Tiffany & Co., Samsung, Uniqlo, Target, The New Yorker and The New York Times. He's the author of Sharpie Art Workshop and the co-creator of several social experiments including the viral blog and books 40 Days of Dating (whose TV rights were optioned to Netflix) and 12 Kinds of Kindness. His first solo gallery exhibition, I'm Too Young To Not Set My Life On Fire, was on view in Manhattan in 2021. And, his new book, I Always Think It's Forever: A Love Story Set in Paris as Told by an Unreliable but Earnest Narrator, takes us into his exploration of love, blending poignant stories, insights and awakenings with vibrant joyful illustrations. And his body of work openly explores Timothy's own mental health challenges and concern about the state of the world, sometimes centering both in his work. 
You can find Timothy at: Website | Instagram | Twitter
If you LOVED this episode:
You'll also love the conversations we had with Jason Naylor about the sweet spot between art, commerce and impact.
Check out our offerings & partners: