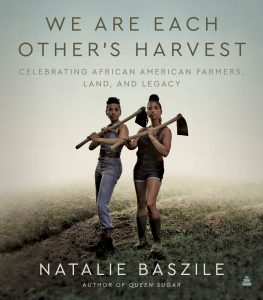 Farming has been a huge part of our history and culture for generations. But, there's a part of the story that's so often left out of the popular lore: the history, stories, and contribution of Black farmers. It's so important to understand this part of our heritage, not only to acknowledge the challenges and contribution, but also because it's had a profound effect on our food systems to health, education, economics, and beyond. In today's conversation with Natalie Baszile, we dive into the history and stories, not just of the past, but of present and returning farmers. Natalie holds a M.A. in Afro-American Studies from UCLA and is a graduate of Warren Wilson College's MFA Program for Writers. She is the author of the novel Queen Sugar, which was adapted for television by writer/director Ava DuVernay and co-produced by Oprah Winfrey for OWN. 
Natalie's stunning new anthology, We Are Each Other's Harvest, is filled with essays, poems, quotes, conversations, and first-person stories that examine Black people's connection to the American land from Emancipation to today, with a strong focus on what she calls the Returning Generation. It elevates the voices and stories of Black farmers and people of color, celebrating their perseverance and resilience, while spotlighting the challenges they continue to face. This collection helps all of us better understand the rich history and contribution of Black farmers. Plus, the book, itself, filled with imagery, is visually gorgeous as well.
You can find Natalie at: Website | Instagram
If you LOVED this episode:
You'll also love the conversations we had with Michele Harper, the author of New York Times bestseller, The Beauty of Breaking.
Check out our offerings & partners: 
Talkspace: Online Counseling Via Text, Audio, Or Video Messaging. At Any Time, From Anywhere. Get $100 off of your first month with Talkspace. To match with a licensed therapist today, go to Talkspace.com or download the app. Make sure to use the code GOODLIFE to get $100 off of your first month and show your support for the show.
Lovevery: Award-winning, Montessori-inspired toys and subscription boxes for babies and toddlers. Designed by child development experts and sustainably made. Take the guesswork out of your child's play. Choose Lovevery today and get free shipping when you sign up to receive your Play Kits at Lovevery.com/GOODLIFE
My new book, Sparked: Discover Your Unique Imprint for Work that Makes You Come Alive is now available for pre-order at https://sparketype.com/book/
photo credit: Jonathan Sprague