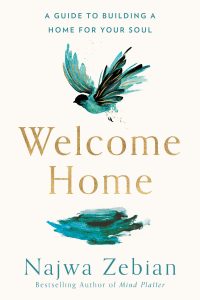 Najwa Zebian is a Lebanese-Canadian activist, author, speaker, and educator who developed a passion for language at a young age, immersing herself in Arabic poetry and novels. As someone who found herself repeated displaced, leaving Lebanon for Canada when she was 16, not realizing it wasn't just a trip, but rather a permanent change,  she'd find herself searching for a home—what Najwa describes as a place where the soul and heart feel at peace, a quest that continues into her adult life.
Her passion for language, quest to understand her place in the world and compassion for those who've been displaced and disenfranchised led her to pursue a Ph.D. in education. But it was an experience teaching young refugees that rekindled her love of writing, after having left it behind because of an association with pain. She began to heal her sixteen-year-old self by writing to heal her students. Since self-publishing her first collection of poetry and prose in 2016, Najwa has become an inspiration to millions of people worldwide, and a trailblazing voice for women everywhere.
Drawing on her own experiences of displacement, discrimination, and abuse, Najwa uses her words to encourage others to build a home within themselves; to live, love, and create fearlessly. Her new book, Welcome Home: A Guide to Building a Home for Your Soul, invites us to explore how to create that feeling we so yearn for within ourselves first, before looking outside.
You can find Najwa at: Website | Instagram
If you LOVED this episode:
You'll also love the conversations we had with Humble the Poet about defining your own identity in a world where you don't seem to fit the mold.
My new book is available!
Check out our offerings & partners: 
Canva: Create beautiful designs with your team. Use Canva's drag-and-drop feature and layouts to design, share and print business cards, logos, presentations and more. Design like a pro with Canva Pro! Right now, you can get a FREE 45-day extended trial when you use my promo code! Just go to Canva.me/GOODLIFE
Parachute: Premium quality sheets, towels, robes and more. Like nothing you've ever felt. Make staying in more comfortable with our modern home collections. Responsibly manufactured. Visit ParachuteHome.com/GOODLIFE for free shipping and returns on Parachute's very comfortable home essentials.
photo credit: George Pimentel